---
5/20/13
SMCLC Objects to DEIR for Massive Miramar Hotel/Condo Project Before Downtown Specific Plan is Done ...
read

---
5/8/13
SMCLC Report on Phenomenal Resident Turnout To Oppose Downtown Plan ...
read

---
4/30/13
IF YOU COME TO NOTHING ELSE THIS YEAR,
PLEASE COME TO THIS:

Downtown Public Forum on Heights, Densities
Date: MONDAY, MAY 6, 2013
Time: 6:00 p.m.- 9:00 p.m.
Place: CIVIC AUDITORIUM EAST WING
...
read

---
3/15/13
City Planner Claims LUCE Requirement of No Traffic Increase with New Development is a Long Term (2030) goal! ...
watch short video
---
3/15/13
SMCLC Thanks Community for its Support ...
read
---
3/14/13
City listens to residents and fires consultant Jeffrey Tumlin for disparaging remarks about Santa Monicans.

SMCLC's Letter Urging City to Fire Jeffrey Tumlin ...
read


Residents' Open Letter to city to fire Mr. Tumlin signed by over 600 residents ...
read


Jeffrey Tumlin's resume calling Santa Monica residents NIMBYS ...
read


Lookout News on firing in response to residents ...
read
SM Daily Press "Tumlin Out" ...
read
SM Patch ...
read
---
3/4/13 
Good News for Santa Monica ...
read
---
2/27/13 
Open Letter to City Council to Terminate Jeffrey Tumlin's Contract ...
read
---
2/25/13 
SMCLC Urges Council to Finally Pass Transportation Impact Fees that City Should Have Collected from Developers Over the Past 20 Years! ...
read
---
Miramar Open House UPDATE: 2/20/13

Turns out we are not welcome at the Miramar Hotel's "open house," "where our neighbors will have the opportunity to learn more" about the Miramar project. We just received an email from the "Miramar Team" that space concerns prohibit including those who did not receive an "initial invitation." Evidently, business is good; the Hotel is short of space. Stay tuned.

2/18/13
SMCLC Urges Residents to Attend 2/21 Miramar Hotel Open House to View Latest Development Plan and Ask Questions ...
read
---
12/17/12
SMCLC Joins Westside in Opposition to Massive Casden Project ...
read
---
12/6/12
SMCLC Urges Santa Monica to Object to Unacceptable Traffic Impacts on Massive West LA Casden Project ...
read
---
11/13/12
SMCLC sends letter to City Council regarding Village Trailer Park Development Agreement ...
read
---
10/29/12
Santa Monica's Hyper-Development Problem ...
See our flyer/email
---
10/27/12
Santa Monica Transparency Group publishes article on local PACs ...
read
---
10/27/12
See What's in the development pipleline for our city ...
read
---
10/27/12
See the projects Council has approved that are larger than our city zoning allows ...
read
---
10/25/12
Betsy Butler Features SMCLC in Anti-Developer mailing
...
See
---
10/22/12
Vote for Santa Monica, not Overdevelopment
Vote Winterer and McKinnon ...
See
---
10/19/12
See how developers are trying to buy Santa Monica city council....
read
---
10/5/12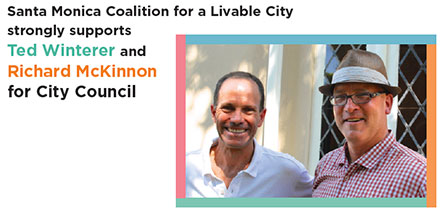 Read and see our downloadable flyer
---

SEE WHAT DEVELOPERS HAVE PLANNED:

9/27/12
SMCLC details the Tsunami of Development Coming to Santa Monica

In a recent presentation, Co-Chair Diana Gordon showed millions of square feet of developments planned or approved for Santa Monica. Part 1 (pdf) uses material from the city itself. In Part 2 (pdf), she talks about resident action to change the outcome of these projects.

View videos of that talk.

---
9/12/12
SMCLC Endorses Betsy Butler for Assembly
...
read press item
---
9/10/12
SMCLC Rallies Residents for Better Santa Monica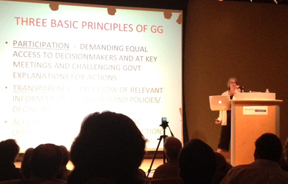 read press item
---
9/5/12
SMCLC Hosts a Meet & Greet for Ted Winterer and Richard McKinnon
...
see invite
---
7/24/12
SMCLC Objects to Consideration of Village Trailer Park DA Until Area Plan and Housing Study Done under LUCE and HUD Grant ...

read letter to City Council
read letter to Planning Commission
City Memo tells Plan Com: "
planning guides the review of the DAs rather than the DAs directing the Area Plan
" - REALLY!? ... read

---
5/23/12
Westside Regional Alliance of Councils unanimously supports regional plan and regional EIR before massive Hines Bergamot project is considered ...
read
---
5/16/12
Local Paper: Bergamot development stalls for now ...
read
---
4/29/12
Two articles in LA Times -- Expo Line Won't Impact Regional Congestion ...
read
---
4/24/12
SMCLC Objects to Massive 550,000sf Miramar Hotel Project and Urges City Council to Reject It ...
read
---
4/13/12
Report: Impacts of Bergamot-area developments understated ...
read
---
3/26/12
SMCLC Continues to Press City for Sharply Reduced Hines/Bergamot Project ...
read
---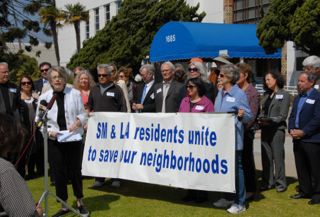 3/15/12
Santa Monica and LA Residents Unite In Opposition to Massive Bergamot "Village" Traffic and Environmental Impacts
...
read
---
2/25/12
Westside Rises up Against Bergamot Project
...
read
---
2/24/12
SMCLC Forming a Broad Coalition to Force Hines to Redesign its Project to Reduce its Traffic Impacts
...
read
---
1/25/12
"Bundy Village 2? " - SMCLC chair writes for WestsideToday.com
...
read
---
12/3/11
SMCLC Objects to Incomplete, Inaccurate Draft EIR on Village Trailer Park
...
read
---
9/26/11
SMCLC Outlines Legal Objections to Hines Project Until Area Plan with HUD Funds is Completed
...
read full letter
---
9/6/11
Update On Massive New Development - Hines / Papermate
...
read
---
8/22/11
SMCLC Files Objections to Hines Papermate Project and Urges Council to Reject Project


The Papermate project on Olyandmpic 26th is poorly conceived as a suburban office superblock not a "village." Building 550,000 square feet of commercial and retail space, plus 220,000 square feet of residential – for a total of 770,000 square feet -- on the already over congested 26th Street and Olympic Blvd corridor would have irreversible consequences for the neighboring area and the entire Westside, bringing even more traffic into this already gridlocked area of the city.

We urge Santa Monica residents to contact their City Council members and tell them they should vote against this project.

Read letter
---
7/29/11
Santa Monica residents are taking bold action to fund an independent traffic analysis. We need your help.
... read
---
5/23/11
Planning for a Livable City: An Open Letter to the City of Santa Monica About the Selection of a New Planning Director
...
read
---
5/2/11
SMCLC Has Reviewed Assembly Bill 1148 and Urges Assembly Committee to Impose More Requirements on Slate Mailer Groups to End Voter Deception and Confusion Stemming from Recent Santa Monica Election
...
read
---
4/11/11
SMCLC Urges Gov Brown and Speaker Perez to Keep CEQA Intact During Budget Discussions
...
read
---
4/6/11
SMCLC Urges FPPC to Adopt New Rules to End Voter Deception and Confusion Stemming from Recent Santa Monica Election
...
read
---
3/28/11
Huge Win for Santa Monica Residents
...
read
---
3/22/11
SMCLC Files Objections to Hines Papermate Project and Urges Council to reject Project and Conduct Independent Economic Study
...
read
---
12/15/10
Large Hines development does not follow established City and State rules regulating how projects in Santa Monica are supposed to be approved.
...
read
---
12/3/10
Update on Developer Front Group Investigation
...
read
---
11/30/10
SMCLC asks City Attorney and City Clerk to follow up on its investigation of developer front group Santa Monicans for Quality Government (SMQG) and to assess penalties against the group and its officers for violating City laws.
Before the election SMCLC raised various violations by SMQG with the City Clerk and City Attorney and demanded a full investigation. SMCLC's letter, posted below, asks for the status of that investigation and provides the legal basis under the Santa Monica Municipal Code for a determination by the City that the phony Santa Monica group calling itself "Santa Monicans for Quality Government" violated the City's election laws and it and its officers should be fined for doing so. ...
read
---
11/16/10
SMCLC Files Complaint with California Fair Political Practices Commission Against Developer Front Group Santa Monicans For Quality Government.
... read
---
11/4/10
Fighting For Santa Monica. Always.

... read
---
11/1/10
Developers behind mystery campaign mailer group
http://www.smdp.com/Articles-c-2010-11-01-70653.113116-Developers-behind-mystery-campaign-mailer-group.html
---
11/1/10
URGENT: New Information You Must Know
It's confirmed. And it's as ugly as we thought.
"Santa Monicans for Quality Government" is a developer front.
...read more
---
10/28/10
Why Kevin McKeown
McKeown is the residents' candidate, a true pothole filling politician who has shown not only a willingness but a desire to deal with the day-to-day gripes of residents.
...read more
---
10/27/10
O'Connor Campaign Linked to Last Minute Dirty Tricks
Councilwoman Pam O'Connor's campaign strategist has sent out two mailings erroneously implying that fellow SMRR candidate Kevin McKeown was not endorsed by local police officers and firefighters.
...read more
---
10/26/10
Why Susan Hartley
SMCLC and the Santa Monica Daily Press both strongly support Susan Hartley for City Council on Nov 2nd (2-year term) for the same reasons
...read more
---
10/26/10
Group Dodging Campaign Disclosure
http://www.smdp.com/Articles-c-2010-10-26-70618.113116-Group-dodging-campaign-disclosure.html
---
10/26/10
SMCLC Files Complaint with City Over Deceptive Mailers by O'Connor Campaign Consultant and Requests Investigation of the Bogus Group Behind the Mailers and O'Connor 's role in them.
To review the complaint,
click here
---
10/25/10
Why Ted Winterer
He is an advocate of slow growth and clearly speaks for residents
...read more
---
10/22/10
SM Daily Press Endorses Winterer and Hartley
The Santa Monica Daily Press Joins SMCLC in strongly endorsing Ted Winterer for the 4-year Council seat and Susan Hartley for the 2-year seat. Both are staunch advocates for residents and against unbridled development beyond what our streets and infrastructure can handle. Read the Daily Press excerpts here:
... read
---
10/11/10
Meet Terry O'Day, a Big Developer's Best Friend
Terry O'Day was so helpful to developers when he was on the Planning Commission, they chose him to be their spokesperson to defeat Prop T, which would have put some limits on commercial development. As his reward, Mr. O'Day was appointed to City Council.
... read
---
10/11/10
Councilmember O'Connor's Developer Addiction
Pam O'Connor takes big developer money, votes to approve huge, larger-than-zoning-allows projects, then looks the other way as developers renege on their agreements and don't deliver the benefits promised to the city.
... read
---
10/4/10
Explosive New Information
Councilmember O'Connor retires almost her entire campaign debt with money from just one developer, who has the largest project in town. And she took the money right before she expected to vote on their project. And now she's done it twice -- before this election and before her last one.
read
---
9/8/10
Vote For Santa Monica
SMCLC Will Work to Elect Councilmembers Who Will Advocate FOR Residents, Not Developers
... read
---
9/1/10
SMCLC Endorses Ted Winterer, Kevin McKeown and Susan Hartley for Council Seats
Four-Year Council Seats:


Ted Winterer has demonstrated strong leadership skills and thoughtful analyses of crucial development projects, and their traffic impacts, in his role on the Planning Commission. He will be a tremendous asset on the City Council.

Incumbent Kevin McKeown is all over Santa Monica. He takes the time to listen, analyze and understand the issues that concern residents; he understands that all of the development projects that the Council votes on will affect residents' lives and the livability of our City and he is not beholden to developers.


Two-Year Council Seat:


Susan Hartley is an articulate, unabashed slow growth advocate who launched an impressive campaign with virtually no funding in 2008. She will be a strong advocate for residents and an excellent addition to the City Council, whose current members too often put the needs of the developers who fund their campaigns above the needs of those who live here.
---
8/14/10
SMCLC Urges Congressman Waxman to Lean on FAA for Full Environmental Review of Recent Flight Path Change at Santa Monica Airport
... read
---
8/3/10
Landslide SMRR Endorsement for Ted Winterer for Council
... read
---
6/23/10
SMCLC Urges Council to Reject Last Minute Revisions to the LUCE by Special Interests
... read
---
5/22/10
Residents Don't Trust City to Negotiate or Enforce Development Agreements in Response to Press Query
... read
---
5/20/10
Letter to Council Regarding the Proposed Development Agreement between Maxser and Company and the City of Santa Monica for 710 Wilshire Blvd. and the Lack of Real Public Benefits.
... read
---
5/19/10
Open Letter from SMCLC and all Santa Monica Community Groups Opposing Harding Larmore Untimely and Major Changes to the Draft LUCE.
...

read
and in the press ... read
---
4/28/10
"Everybody has a right to expect that their representatives are going to be responsive to them, not to whoever can shuffle the most cash into their campaigns. The amount of money in campaigns is obscene".

Ross Johnson, Chairman California Fair Political Practices Commission (LA Times, April 26, 2010)
---
2/1/10
On the abandoned PaperMate factory site, in the heart of Santa Monica, (26th and Olympic) an out-of-town developer wants to build a project MORE THAN TRIPLE the size of what current zoning allows.
Read about it and follow the latest here.

The attached map shows all of the massive new developments (in red) proposed on or near 26th and Olympic --- in an area that already has impenetrable traffic. These projects are all being proposed under Development Agreements. Development Agreements are special contracts negotiated between the developer and the City which enable the developer to build projects much larger than existing zoning allows, and consequently, to greatly exacerbate traffic congestion. In exchange for this privilege, the new development is supposed to provide substantial community benefits. The map also shows previous projects that were approved by the City which have generated such enormous traffic congestion in this area.

SMCLC believes that eight (8) of these proposed projects are way too big and have too much commercial office space; the type of development which generates the most amount of traffic. They do not provide meaningful or sufficient community benefits to make up for the huge amounts of new unmitigated traffic congestion they would cause. It is critical in this city council election year for residents to speak out loudly and clearly to oppose these projects unless the developers agree to scale them back and to minimize the impacts on our neighborhoods and the quality of life for all residents.

Read the letter that SMCLC and FOSP submitted to the Planning Commission at the 1.27.10 hearing opposing the PaperMate project.
Download a flyer to distribute in your immediate area.
---
2/1/10
SMCLC and FOSP jointly oppose Paseo Nebraska Development Agreement Float-Up
Read the letter to the Planning Commission... view the map
---
1//29/10
SMCLC objects to massive L.A. office project at Olympic and Centinela/Bundy
SMCLC has joined many other community organizations in and outside of Santa Monica to object to a developer proposal to build a 1.3 million square foot project on Santa Monica's eastern border. The project proposed would impact some 19 Santa Monica intersections and create daily traffic gridlock.
SMCLC supports regional coordination among community groups to control and change oversized projects such as this one, which disregard the serious and irreversible impacts they will have on the surrounding area. ... read letter
---
1/21/10
Massive Traffic Snarling Development Proposed in heart of Santa Monica. Find out what you can do to stop it.
email planning commission
download flyer
---
8 /14/09
Remembering SMCLC Advisor, Laurel Roennau



Laurel Roennau lived in Santa Monica for over 40 years and was a formidable force in our community. A bioastronautics engineering graduate from UC Berkeley, she retired after working at Douglas Aircraft, RAND, Space Technology Labs, and the Community Redevelopment Agency. She served on the LA County Regional Plan Association, the LA Airports Commission, The SM Architectural Review Board, The SM Democratic Club Board, and as a valued member of the Santa Monica Coalition for a Livable City and several neighborhood groups. Named Woman of the Year in Science by the LA Times, Laurel held the Lifetime Award from the Society of Women Engineers. Her legacy includes her work on managing traffic congestion, her commitment to local activism which inspired others, her ability to speak truth to power, to befriend others, and to be a truly wonderful neighbor.

SM Dispatch remembers Laurel ... read

---
6/24/09
SMCLC Concerns RE 2802 Pico Project.. read
---
6/24/09
SMCLC/FOSP Objections to 2834 Colorado Development Agreement... read
---
6/21/09
LA Times study confirms Prop T supporters were right... read
---
6/10/09
SMCLC Tells the City - "No Backroom Deals" ... Again!
SMCLC and Neighborhood Associations vigorously oppose developer Maxser and Company's current plans to develop of one of the largest hotels in Santa Monica at 710 Wilshire Boulevard. Read their letter to the Planning Commission read
---
6/9/09
SMCLC opposes any lease extension of public beach land to Jonathan Club read


---
6/8/09

SMCLC Tells the City - "No Backroom Deals"
SMCLC and 150 of our supporters have sent a message to the SM City Council urging them not to reward a developer with a "Development Agreement". Trammell Crow, a Texas based company, evicted residents and now seeks to build beyond the zoning standards. read
---
5/15/09
Ted Winterer Wins Planning Commissioner Post
SMCLC is pleased to announce that Ted Winterer has been appointed to the Santa Monica Planning Commission. Ted, an SMCLC adviser, was a strong and vocal supporter of Proposition T and has long recognized the link between unlimited commercial development and increased traffic. As a neighborhood activist, Ted has long fought for Santa Monica residents to have input into important decisions about commercial growth in our neighborhoods. SMCLC worked hard for Ted's appointment to this critical commission, which makes land-use and development decisions. We congratulate Ted and are grateful to the four City Council members; Holbrook, Genser, McKeown, and Shriver, who supported his nomination.
---
4/14/09
SMCLC Objects to Extension of Development Agreement Ordinance by Council... read
---
ARCHIVE:
---
2/6/08
SM Place remodel makes NY Times.
SMCLC is quoted ... read
---
1/16/08
SMCLC Files Initiative to Fight Traffic and Limit Development ... read


---
1/5/08
SMCLC Set to Launch Traffic Initiative to Limit Commercial Development... read
---
1/5/08
SMCLC endorses Measure R... read
---
12/31/07
Quote of the day:
"For the second year in a row, the Santa Monica Coalition for a Livable City wins the 'Best Civic Group' Sammy for being a voice for responsible development and traffic management. If only somebody in City Hall
would take heed."
– Bill Bauer, SM Daily Press
My Write / 'Sammy' Awards
---
11/26/07
SMCLC and Neighborhood Groups object to development proposed for the Village Trailer Park... read
---
11/26/07
SMCLC supports sustainability evaluations for development proposals... read
---
11/13/07
SMCLC and Neighborhood Groups object to discussions re: 2834 Colorado Avenue until General Plan and related Zoning completed... read
---
10/25/07
SMCLC leads community effort stating City action is needed now in implementing a new traffic impact methodology... read
---
10/15/07
Four More Community Leaders sign on with SMCLC: Mark Armour, Joel Brand, Darrell Clarke, Maria Loya... read member profiles
---
10/12/07
Quote of the Day:
"We've had several fatal accidents Downtown. The traffic issues are huge. Congestion is a big deal . . . ."

-- Police Chief Tim Jackman
---
10/11/07
SMCLC again asks the city to fund a new traffic impact methodology... read
---
10/9/07
SMCLC supports effort of city to control airport usage... read
---
10/1/07
LA Times article: Lots of Traffic, Little Data – L.A. doesn't save data on traffic growth... read
---
9/25/07
Quote of the Day:

"Population growth has added immeasurable traffic loads on city roadways. Heavy traffic and congestion contribute to greater risk taking by motorist in an effort to reduce their travel time."
– Timothy J. Jackman, SM Police Chief

(staff report proposing pilot red light camera program)
---
9/5/07
SMCLC objects to a proposal that would "decouple" parking from new residential construction downtown... read
---
8/28/07
SMCLC urges Council to reject a proposed development agreement ordinance... read
---
8/21/07
SMCLC Tells the City its Initial Study for Santa Monica Place is Woefully Deficient... read
---
8/18/07
SM Daily Press Q-line asked: Do you think the City Council should enact a freeze on all building or would such a measure be overkill?... read
---
8/14/07
SMCLC objects to development proposed for the Village Trailer Park... read
---
8/13/07
SMDP: Residents' concerns may lead to changes to the General Plan... read
City staff 'information item' report to City Council... read
---
8/9/07
LA Times article: Experts, residents unsure of new downtown rules' effect... read
---
8/6/07
LA Times article: Southern California is becoming a tight fit... read
---
7/31/07
LA Times article: Two on the (L.A.) council want planners to find more accurate ways to predict the effect of a raft of new building projects on roadways... read
---
7/26/07
Council directs staff to prepare an interim development standards for industrial area... read
---
7/15/07
SMCLC asks residents to support building moratorium... read
---
7/13/07
The LA Times features two articles on area growth... read
---
6/30/07
SM Daily Press readers respond with emphatic support for rethinking development strategy and enacting a building moratorium... read
---
6/30/07
LA Times: Research casts doubt on the region's strategy of pushing transit-oriented residential projects to get people out of cars... read
---
6/26/07
SMCLC Sends Letter to Council Supporting Reappointment of Darrell Clarke to Planning Commission... read
---
6/19/07
SMCLC Urges Planning Commission to Recommend Building Moratorium... read
---
6/6/07
SMCLC and Neighborhood Group Leaders Meet with City About Building Moratorium until LUCE Adopted... read
---
5/22/07
OPA Petitions for Livable Boulevard... read
---
4/24/07
SMCLC Supports Review of Large SRO Projects... read
---
4/11/07
Letter to our Friends and Supporters: Here's What We've Been Up To. ... read

---
3/07/07
Macerich plans remodel of SM Place. "There won't be an expansion"... read
---
1/5/07
SMCLC Urges Council to Retain Public Review... read
And, our web visitors post their opinions... read
---