---
9/10/13


SMCLC Asks Planning Commission to Send Hines Back to the Drawing Board for its Persistent Refusal to Negotiate a Reasonable Project or Meet with the Community

...
read
---
8/15/13


Huge Win for Santa Monica Residents – A Downtown Plan Limited to 84 Feet!

...
read
---
7/16/13
SMCLC Urges the Planning Commission to recommend that a draft Downtown Specific Plan be completed, circulated and reviewed before the City commences environmental review of the Downtown ...
read
---
7/7/13
SMCLC Objects to the Proposal to Start a Program EIR for the Downtown BEFORE there is Even a Draft Plan for the Downtown as a Broken Promise to Residents and Poor Planning ...
read
---
6/21/13
Daily Press Editorial "Aren't They Listening at City Hall?" ...
view

---
6/18/13
SMCLC Encourages Developers to Work WITH Residents: Our Full-page Ad ...
view

---
5/20/13
SMCLC Objects to DEIR for Massive Miramar Hotel/Condo Project Before Downtown Specific Plan is Done ...
read

---
5/8/13
SMCLC Report on Phenomenal Resident Turnout To Oppose Downtown Plan ...
read

---
4/30/13
IF YOU COME TO NOTHING ELSE THIS YEAR,
PLEASE COME TO THIS:

Downtown Public Forum on Heights, Densities
Date: MONDAY, MAY 6, 2013
Time: 6:00 p.m.- 9:00 p.m.
Place: CIVIC AUDITORIUM EAST WING
...
read

---
3/15/13
City Planner Claims LUCE Requirement of No Traffic Increase with New Development is a Long Term (2030) goal! ...
watch short video
---
3/15/13
SMCLC Thanks Community for its Support ...
read
---
3/14/13
City listens to residents and fires consultant Jeffrey Tumlin for disparaging remarks about Santa Monicans.

SMCLC's Letter Urging City to Fire Jeffrey Tumlin ...
read


Residents' Open Letter to city to fire Mr. Tumlin signed by over 600 residents ...
read


Jeffrey Tumlin's resume calling Santa Monica residents NIMBYS ...
read


Lookout News on firing in response to residents ...
read
SM Daily Press "Tumlin Out" ...
read
SM Patch ...
read
---
3/4/13 
Good News for Santa Monica ...
read
---
2/27/13 
Open Letter to City Council to Terminate Jeffrey Tumlin's Contract ...
read
---
2/25/13 
SMCLC Urges Council to Finally Pass Transportation Impact Fees that City Should Have Collected from Developers Over the Past 20 Years! ...
read
---
Miramar Open House UPDATE: 2/20/13

Turns out we are not welcome at the Miramar Hotel's "open house," "where our neighbors will have the opportunity to learn more" about the Miramar project. We just received an email from the "Miramar Team" that space concerns prohibit including those who did not receive an "initial invitation." Evidently, business is good; the Hotel is short of space. Stay tuned.

2/18/13
SMCLC Urges Residents to Attend 2/21 Miramar Hotel Open House to View Latest Development Plan and Ask Questions ...
read
---
12/17/12
SMCLC Joins Westside in Opposition to Massive Casden Project ...
read
---
12/6/12
SMCLC Urges Santa Monica to Object to Unacceptable Traffic Impacts on Massive West LA Casden Project ...
read
---
11/13/12
SMCLC sends letter to City Council regarding Village Trailer Park Development Agreement ...
read
---
10/29/12
Santa Monica's Hyper-Development Problem ...
See our flyer/email
---
10/27/12
Santa Monica Transparency Group publishes article on local PACs ...
read
---
10/27/12
See What's in the development pipleline for our city ...
read
---
10/27/12
See the projects Council has approved that are larger than our city zoning allows ...
read
---
10/25/12
Betsy Butler Features SMCLC in Anti-Developer mailing
...
See
---
10/22/12
Vote for Santa Monica, not Overdevelopment
Vote Winterer and McKinnon ...
See
---
10/19/12
See how developers are trying to buy Santa Monica city council....
read
---
10/5/12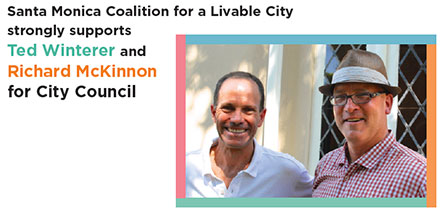 Read and see our downloadable flyer
---

SEE WHAT DEVELOPERS HAVE PLANNED:

9/27/12
SMCLC details the Tsunami of Development Coming to Santa Monica

In a recent presentation, Co-Chair Diana Gordon showed millions of square feet of developments planned or approved for Santa Monica. Part 1 (pdf) uses material from the city itself. In Part 2 (pdf), she talks about resident action to change the outcome of these projects.

View videos of that talk.

---
9/12/12
SMCLC Endorses Betsy Butler for Assembly
...
read press item
---
9/10/12
SMCLC Rallies Residents for Better Santa Monica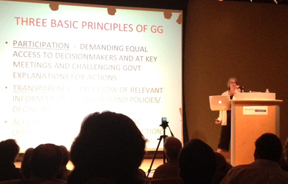 read press item
---
9/5/12
SMCLC Hosts a Meet & Greet for Ted Winterer and Richard McKinnon
...
see invite
---
7/24/12
SMCLC Objects to Consideration of Village Trailer Park DA Until Area Plan and Housing Study Done under LUCE and HUD Grant ...

read letter to City Council
read letter to Planning Commission
City Memo tells Plan Com: "
planning guides the review of the DAs rather than the DAs directing the Area Plan
" - REALLY!? ... read

---
5/23/12
Westside Regional Alliance of Councils unanimously supports regional plan and regional EIR before massive Hines Bergamot project is considered ...
read
---
5/16/12
Local Paper: Bergamot development stalls for now ...
read
---
4/29/12
Two articles in LA Times -- Expo Line Won't Impact Regional Congestion ...
read
---
4/24/12
SMCLC Objects to Massive 550,000sf Miramar Hotel Project and Urges City Council to Reject It ...
read
---
4/13/12
Report: Impacts of Bergamot-area developments understated ...
read
---
3/26/12
SMCLC Continues to Press City for Sharply Reduced Hines/Bergamot Project ...
read
---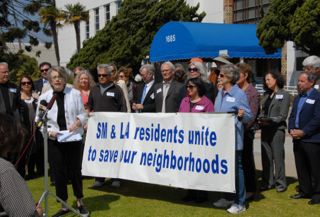 3/15/12
Santa Monica and LA Residents Unite In Opposition to Massive Bergamot "Village" Traffic and Environmental Impacts
...
read
---
2/25/12
Westside Rises up Against Bergamot Project
...
read
---
2/24/12
SMCLC Forming a Broad Coalition to Force Hines to Redesign its Project to Reduce its Traffic Impacts
...
read
---
1/25/12
"Bundy Village 2? " - SMCLC chair writes for WestsideToday.com
...
read
---
ARCHIVE ...
click here