Welcome to Prop T's online home. Prop T, also known as RIFT, is a ballot initiative created by Santa Monica Coalition for a Livable City (SMCLC) to fight our city's ever worsening traffic by limiting local commercial growth.
The initiative has been filed with the City of Santa Monica and 10,295 signatures (nearly twice the number needed for ballot qualification) have been submitted. The county certified the official count placing the measure on the November ballot.
REMEMBER: Yes on Prop T is #162 on your ballot




11/1/08
Dishonest mailers from developers... read ... read ...and read
10.28.08
KABC puts T on the air ... view
10.27.08
To the "Yes on Measure T" Committee:
Anti-T mailers from Save Our City feature the name of "Marian Blount, a 16-year Santa Monica resident" prominently featured on a list of those who oppose Measure T. For the record, I never told anyone I opposed T, never gave anyone permission to use my name and I have, in fact, already voted FOR T.
– Marian Blount
10.26.08
RENTAL HOUSING NOT AT RISK UNDER PROP T
10.25.08
Pro T forces Rally for Two Days Straight
SM Daily Press
SM Dispatch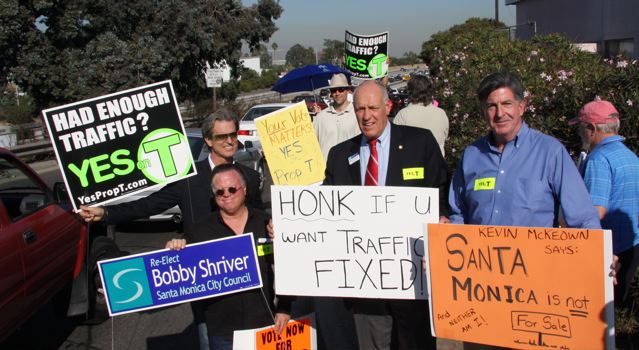 10.23.08
Rochelle Fanali writes:
"...the fact is the claim that Prop T would devastate our schools is false and irresponsible." ... read
10.14.08
City claims: Earthquake ate homework, can't find key study needed to collect developer fees ... read
10.10.08
Councilmember Bobby Shriver Supports Prop T
"The most important results of T will be what we will never see: huge buildings and more gridlocked traffic." ...read
10.9.08
Major Developers Bankroll Prop T opposition
"Most of the money has come from five national developers who have each given to date between $45,000 and $50,000." ... "Most of the major contributors are out-of-state companies that own large parcels of prime real estate, some of it slated for large-scale developments." ... read
10.4.08
Key members resign school booster group to support T ... read

| | | |
| --- | --- | --- |
| | Join Our Mailing List | |
10.2.08
"Following Senator Kuehl's argument, allowing the City Council to continue approving more large office projects, such as the Lantana Entertainment expansion on Olympic (2,000 additional daily car trips), the Lionsgate project on Colorado (2,000 additional daily car trips), the Village Trailer Park project on Colorado (2,000 additional daily car trips) will somehow reduce traffic congestion in our community". ... read
9.25.08
CITY DROPS BALL ON $45 MIL!!?
Information unearthed shows City failed to collect $45 million in development fees. ... read ... and read

9.18.08
Prop T launches SaveOurDevelopers.com
This new website sets the record straight and addresses developer scare-mongering by providing residents with quick and truthful answers to the lies being spread about Proposition T. ... read
9.18.08
SM Mirror publishes 3 letters from Prop T supporters ... read
9.11.08
Prop T gets big support from county Democrats ... read
9.8.08
SM Daily Press shines light on developer money trying to defeat Prop T ... read
9.7.08
Campaign HQ open. Our grassroots movement now has a home. It's a vintage bungalow in the Ocean Park area of our city. Drop by to take a look, and of course to volunteer. We're the only group in Santa Monica fighting for residents against powerful developers. Come be a part of it! Location/Hours/Pix
9.1.08
Lies About Prop T
Developers from around the state are funding a massive campaign to defeat residents' efforts to curb traffic in Santa Monica. Read the lies they are spreading and hear our side by clicking here.
8.31.08
View our growing endorsement list of residents, organizations and Santa Monica businesses.
8.18.08
It's official. "RIFT" is now Proposition "T". "T" as in "traffic." We asked to be assigned that letter because we know that Prop T will reduce the amount of new traffic on our already congested streets by limiting new commercial development (office, hotel, and retail). ...read
8.5.08
LA Times editorial calls SM traffic a "nightmare"
The editorial goes on to say that Santa Monica and Los Angeles should work together to solve the problem. We agree. Unfortunately, our city has shown it isn't interested in tackling our traffic "nightmare", only in creating more growth, which will make traffic even worse. That's why Santa Monica residents have to take on this issue themselves. When "leadership" doesn't lead, ordinary citizens must become leaders. ...read

8.2.08
SM Daily Press asks if Santa Monica should limit growth. 100% say YES.... read
7.24.08
SM Planning Commissioner Jay Johnson Endorses RIFT. "RIFT is our only and best answer to seriously control growth/density." ... read
7.17.08
LUCE Will Not Offset Negative Consequences of Development...read SM Mirror
[FYI: LUCE – Land Use and Circulation Element / A city planning document currently being revised]
7.9.08
RIFT's sponsors say the groundswell is fueled by City Hall's failure to stem development... read LA Weekly
7.8.08
USC Study finds local air pollution bad for kids. Residential traffic exposure is linked to deficits in lung function growth and increased school absences. ... read
6.25.08
City Hall spent $100,000 of taxpayer money on biased study, snubs public and railroads conclusions...read SMCLC letter to Council

6.08
LA Times Expose on Traffic
Santa Monica cited as case study of how developments pass through loopholes in state laws in Part 2 of this multi-part series. ...read
PRESS RELEASE 5/19/08
Local Traffic Initiative Certified With Massive Support, Headed for November Ballot

SANTA MONICA – An initiative to fight traffic congestion in Santa Monica is headed for the November ballot after the County Clerk certified that the residents' group sponsoring the measure had collected well over the required signatures the group announced Monday.

Proponents of the measure known as RIFT – Residents' Initiative to Fight Traffic – collected over 10,000 signatures of registered voters in just 10 weeks. By law, the measure only needed 5800 signatures.

"Residents are fed up with overwhelming traffic congestion and our city's continuing failure to set limits on commercial growth, which is a major source of gridlock," said Diana Gordon, co-chair of the Santa Monica Coalition for a Livable City which authored the initiative.
"Finally, residents will get to vote on a real solution that will reduce the growth in cars coming into our city."

"We know developers are already lining up to fund an expensive and deceptive campaign against the initiative. But Santa Monica residents will prevail just as they have in the past when the city breaks faith with its residents over misguided development, whether it be the battle to save the Pier in the 70s or to halt beach hotel construction in the 90s," Gordon said.

Santa Monicans are not alone in their frustration that too much development and traffic is threatening the very sense of place that makes their city special. Residents in Newport Beach, Thousand Oaks, Oxnard and Redondo Beach are either voting on traffic-related initiatives in June or have enacted them in recent years.

RIFT would place an annual limit of 75,000 square-feet on new commercial development for the next 15 years. Schools, hospitals, religious buildings and other community-serving development would be exempt. Large-scale development projects could be approved by voters.
---
PHOTOS OF THE SIGNATURE SUBMISSION TO SM CITY HALL
• DONATE • VOLUNTEER • JOIN OUR EMAIL LIST

4.7.08
SM Daily Press
"... the people are taking control where city government has refused to intervene." ... read

SM Daily Press
"But here's the reality: All commercial development doesn't necessarily generate net revenues
to the city once the cost of providing new services required by a project is subtracted from gross
revenues. ...read
3.31.08
PRESS RELEASE
RIFT is good for our local economy and local business ...read
3.26.08
The past SMCLC effort of deny carte blanche development of SM Place proves portentous. "...the Westside is the 'dominant favored quarter' for development in Los Angeles County..." ... read
3.24.08
LA Council Rejects Project Based on Traffic
"This project (Las Lomas) would have put 15,000 cars a day in an already heavily impacted area," said City Councilman Greig Smith, who represents the northwest San Fernando Valley. "The people of L.A. said we can't take that anymore. We're tired of it."... read

3.17.08
Pico Neighborhood Association (PNA) and Wilshire-Montana Neighborhood Coalition (WILMONT) have endorsed RIFT. All five traditional neighborhood groups now support RIFT. ... read
3.16.08
RIFT EXTRA
At SMCLC's request, retired Rand research engineer, Giles Smith studied patterns of land-use in Santa Monica over the past 25 years. Here is his report, which shows the massive amount of commercial development the city approved in excess of our 1984 General Plan, as well as the large amount of new growth the city is projecting over the next 20 years. The report is based entirely on city documents.

3.15.08
Why RIFT is good for Santa Monica businesses... read

3.11.08
SM Daily Press Op-Ed
"It's hard to trust City Hall on Development"
3.7.08
SM Dispatch A Vital Measure
"We don't know precisely when City Hall decided that it knew better than Santa Monica residents and stopped listening to us, but it was some time ago, and we are now all suffering the multiple consequences of a series of wrong turns made, over our protests, by City Hall."
3..4.08
SM Dispatch Op-Ed
"Surely, by now, we should have some sense of the place that is presumably taking shape on the computer screens in the Planning Department..."



RIFT online can be accessed through the SMCLC homepage. You have a choice of three URLs to place in your browser • smclc.net • smrift.net • smrift.com. All three take you to the SMCLC homepage. Click on the BIG RIFT icon to get you back here, into the RIFT site.